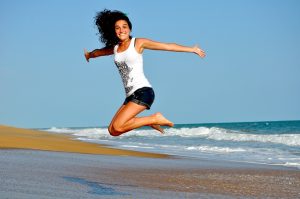 I see a lot of clients come into our gym in Lakeland, FL angry, stressed and sometimes ready to blow, but by the end of the workout, they're in a better mood. Why the change? It's one of the benefits of working out. Working out burns off the hormones of stress that can make you ready to hit the next person that looks at you or scream at the top of your lungs. The process of working out actually mimics the very things that the fight or flight response was meant to prepare you to do, fight or run like the wind.
When you start a workout, hormones cause changes in your body.
While the body makes changes, so does the brain. It releases brain-derived neurotrophic factor—BDNF—to protect itself and repair any memory neurons, while also allowing it to be a reset for the brain. Don't worry about the pain from running or fighting—-or in this case, exercising—endorphins are released to block pain or discomfort. If those weren't present, you'd focus more on how your legs hurt when running from a predator than looking for places to hide or how to get away successfully.
Your brain increases neurotransmitter production, such as serotonin and norepinephrine.
Serotonin and norepinephrine are both neurotransmitters and hormones. In fact, they're often called happiness hormones. They boost your feelings of happiness and peace in your brain. You get the biggest boost in the first 20 minutes of working out and the effects can last all day. Clinical psychologist, James Blementhal, PhD from Duke University, found that adults suffering from major depression had higher rates of remission, comparing exercise to antidepressants for treating patients suffering from major depressive disorder and that exercise also preventing a relapse in a follow-up a year later.
Healthy eating can increase your sense of well-being.
You may already be aware that eating products with added sugar or simple carbohydrates can cause fluctuations in your blood sugar levels that can take you from a high to a deep valley. Cutting out sugar and simple carbohydrates is one change that has a positive impact on your mood. One study found that people who ate almost no servings of fruit and vegetables and switched to eight portions a day had a boost in the feeling of satisfaction.
Exercise can be the cornerstone for building habits that make your life better and more productive. Sticking with the habit of working out boosts your self esteem and adds to the feel-good response.
While nobody is sure why consuming more vegetables and fruit makes you feel good, most hypothesize it's the nutrients like carotenoids that boost optimism or vitamin B12 that increases serotonin.
Studies show that just starting a program of regular exercise boosts your self-image, even before any results are seen. Knowing you're doing something good for yourself that's tough to do is part of the feel good results.
Get a boost of happiness today. Habitat Health and Fitness offers an opportunity to get three free workouts to become familiar with our program. Take advantage of this offer and you'll see the difference.