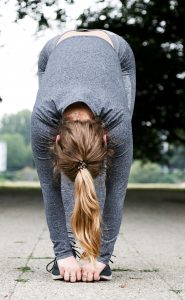 If you've made it your new goal to get fit, you probably want to find the best possible program to achieve that goal. Finding workouts for beginners can help solve that problem, but you still have to identify how much you should push yourself and how many repetitions to do. It's one reason people love having the services of a personal trainer, to help them through that phase of exercise. However, if you're working out on your own, don't push yourself too much the first few days. Spend more time focusing on the right form than how much you can lift, how long you can workout and how many reps you can do. You'll be glad you did.
You need a combination of exercises that provide endurance, strength, balance and flexibility training.
No matter what your level of fitness or experience with exercise programs, you need a balance of all types of workouts. Endurance exercises are also known as cardio workouts. It keeps you heart healthy. Strength training builds muscles and protects your bones, while flexibility training protects your muscles. Balance training helps protect you from falls. Running, rowing and biking are three types of cardio workouts. Flexibility training increases your range of motion and include all types of stretching. Most people identify strength training with weights, but you can use body weight, resistance bands and kettlebells. Many of the core exercises improve your balance, as well as strengthening the body in the process.
Always include a warm-up and a cool-down.
Before you start any workout, make sure you include warm-up exercises to prepare your body. The type of warm-up you do depends on the part of body you're working out. Jumping rope, arm circles and lunges are appropriate, depending on the body area you'll be working. Simply walking it off or stretching can be a good cool-down exercise.
Start with a workout program that doesn't require equipment if you're doing it at home.
Bodyweight exercises are the best types of workouts for anyone that isn't working out in the gym. The weight of your body is all the equipment you'll need. Start with your warmup and move onto the actual workout. Start with a program that has squats, push-ups, lunges, a plank and jumping jacks. You can do strength training by using empty plastic bottles filled with water or sand for strength training. Focus on form initially and don't push yourself the first few days, but slowly increase the number of repetitions and shorten the recovery time between exercises.
Before you start your workout program, set a goal, then create a path to achieve it.You need to be able to measure your success, so record your progress, weight and measurements before you start and periodically once you've begun.
If you haven't worked out in years, are older or have medical conditions, always check with your health care professional before starting a workout program.
Create a workout schedule. When you have it scheduled, like any other appointment, you're more apt to do it. If you workout in the morning, lay your clothes out the night before as extra incentive.
If you're still confused and want more help, we offer three workouts free that will help you get into the grove and get started immediately. Habitat Health and Fitness also offers low cost group programs to get you started on the right path and help you stay on it, too.
For more information, contact us today at Habitat Health & Fitness