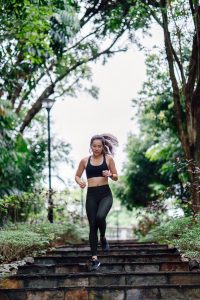 If you run miles a day and do tons of cardio workouts to burn belly fat, but find you're not getting the results you want, there's a reason. Steady state cardio isn't necessarily the best route to take. Belly fat—visceral fat—is the hardest type of fat to lose. There's no special exercise to take it off your belly either, since spot exercises simply don't work that way. To lose belly fat, you have to lose fat all over your body. While cardio does burn calories, there are downsides to cardio that can sabotage your efforts.
Cardio burns lots of calories, but they come from both fat and muscle.
When you do a cardio workout, the calories come from burning both fat and muscle. Why is that important? Muscle tissue requires more calories to maintain, so the more muscle tissue you have, the more calories you burn. If you choose strictly cardio, it can burn that muscle tissue for energy, leaving you with a slower metabolism. That makes it even harder to lose any fat, let alone belly fat.
You still need cardio, but need to make some modifications.
Whether you're trying to lose belly fat or just get fit, you need cardio workouts. You can modify your cardio or endurance training to maximize the benefits. Turn your cardio into a HIIT—high intensity interval training—workout. All you have to do is modify how you do the cardio. If you're running, run at top intensity for a minute or two and then switch your pace to a recovery pace for the same length of time or longer. Switch back and forth between the two levels of intensity for maximum calorie burning and benefits. Studies show HIIT workouts burn far more calories than steady state cardio.
For the fastest results, combine your HIIT workout with strength training.
Strength training builds muscle tissue and the more you have, the more muscles you build. It also burns tons of calories. If you make your strength training also a HIIT cardio workout, you'll get the best of both worlds, burning calories from fat, while you build muscle tissue. You'll notice many of our workouts are tough and have an element of cardio and strength training. This is just one reason for that type of workout.
How do you make strength training cardio training? You do your strength training sets for various body parts with no rest between the exercises. You'll maximize the benefits of both.
HIIT training can help cut down on workout time. It also produces after burn, which means you continue to burn calories long after your workout ended.
Not all your workouts should be HIIT or resistance training, even if you're trying to lose belly fat. You still need cardio, like swimming, walking and stair-climbing to decrease the risk of type2 diabetes, osteoporosis, depression and some types of cancer.
Our trainers at Habitat Health and Fitness will create a program designed specifically for your needs no matter what your goal. It will be based on the latest scientific information to help you reach your goal more quickly.
For more information, contact us today at Habitat Health & Fitness