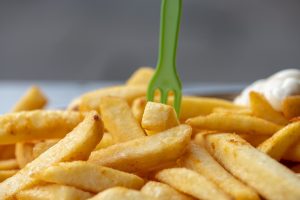 Getting in shape for the summer means more than just working out. While you do have to move, in order to get the waist, thighs or overall body that you want. You have to eat healthy, too. It can start by eliminating processed foods and sugar from your diet and focus more on eating fresh whole foods. Whole foods can include poultry, beef, pork, seafood and fish you bake, broil, steam or grill at home. Whole foods have minimum ingredients and you know what's in each one. Instead of chicken McNuggets, you eat a baked chicken breast. Forget about the fries and chips, have a baked potato instead.
Exercise tones and builds the muscles, burns calories and gives you the shapely body you want.
Eating healthy can help you lose weight and make your body healthier, but only exercise can shape your body to improve your appearance. Besides toning your body, working out does so much more. It builds muscle tissue and while doing that, burns calories. Building muscle tissue is also important because muscle tissue burns more calories 24/7 than fat tissue does, so it helps you boost your metabolism. You'll increase your energy level, too.
Besides a program of exercise, adding more movement in your life can shape those thighs.
Sure, you can work out three times a week and get results, but if you want to boost those results, start making other changes. Increasing your overall activity can help you lose weight and get fitter faster. It doesn't mean you have to workout every day, but it does mean that making changes like walking to lunch rather than taking a car, taking the stairs not the elevator and even parking further from the store to add steps to your day can help you get the body you want.
Don't forget to take snacks with you.
One reason people often fail at losing weight is that they starve themselves, rather than switching to a healthy lifestyle. It doesn't take long before you find yourself anxiously searching the candy machine at work for something to eat or sneaking a donut that was brought in by a co-worker. Rather than starving yourself, make sure you have a supply of healthy foods, snacks included. Take fresh fruits and vegetables and some healthy dip for a mid morning or mid afternoon snack. A single serving of mixed nuts or a few pieces of apple with peanut butter will help you stay full and keep you on track.
Starving yourself isn't the way to lose weight. While you might shed a pound or two, they return the minute you eat again. It can even slow your metabolism, which makes it even harder to lose weight.
You can have family fun while helping those thighs become thinner. Plan a hike or picnic with the family or take a walking tour of the city. Even shooting hoops with the kids can help burn calories and tone your legs.
Lunges with jump changes, jump crunches, leg raises while laying on your side and leg raises all help thin those thighs and get your legs swimsuit ready.
Don't forget to drink plenty of water and get adequate sleep. Too little sleep can mess with your hunger hormones and thirst is often mistaken for hunger. Both are healthy lifestyle changes that can slim you down.