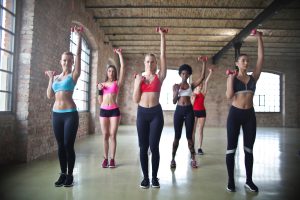 I love watching the people in the team and small group classes in Lakeland, Florida. While you'll sometimes see a bit of dread on the participants faces when they have to start something new, most of the time you'll find they enjoy themselves, even when the workout is hard. The people in the group classes and even those who come to me for personal training, find it's more enjoyable when you're working out with someone else. You might say working out with a partner or in a group will make you flex for fun, while you're building endurance, flexibility and strength.
One of the benefits to group training or having a trainer or a workout partner is accountability.
Just knowing you'll be meeting a group, a workout partner or a trainer will get you to the gym when you'd rather stay at home. When someone is waiting for, that makes you accountable to them to arrive. Even when you exercise, if there are others watching, you'll be more apt to put more effort into the workout. Sometimes, there's even friendly competition that drives people on to achieving more. You'll put more effort into the workout, so you'll get more out of it. After all, who wants to be the person who quits first.
A workout group is less expensive than private sessions.
Whether you opt for small group training or team training, you'll pay less than you would if you worked out with a personal trainer. That's because everyone shares the cost of the trainer's time. Even though you don't get continuous one-on-one time, you get the oversight of a personalized trainer, a program created for your fitness level, and instruction on how to do each exercise correctly. Our trainers even modify workouts to accommodate injuries and special needs.
You'll laugh and build friendships.
People don't come to the group sessions to make friends. They come to get fit. Friendships are just a bonus. Today, there's a lot of competition for good jobs and that causes some people to focus their energy on their job, with very little left for social life after work. The reason they do it boils down to a busy schedule and little time for socializing. Group workouts, provide a bit of social outlet, while focusing on staying fit. People often make friends with other busy people, form relationships—even if it's just at the gym—and have a real personal connection when they workout in a group.
Our workouts are fun and also quick. You don't have to spend all day to have the workout you need to look and feel better. Taking just 45 minutes out of your day will help you melt fat and get fit.
Our trainers have the knowledge to provide workouts that make the most of the time you have. You'll get faster results by doing the training you need.
There's something for everyone. You don't have to be fit to enjoy a workout with the group, even if someone in your group is super fit. Everyone works at his or her own fitness level. The only person you'll be competing with is yourself.
Come take our three workout challenge. At Habitat Health and Fitness, we offer 3 free workouts to get you started. You'll feel how great it is to get moving and learn how you can get in shape faster, without costing you one cent.
For more information, contact us today at Habitat Health and Fitness