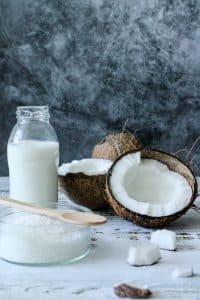 There are many reasons people love being part of the family at Habitat Health and Fitness in Lakeland, FL. Getting responsible answers in almost any area of fitness, either directly or in a blog is one. I've been getting quite a few questions about the difference between coconut water and coconut milk, and if coconut milk is good for you. Coconut water is found naturally inside young coconuts that eventually hardens to form the meat of the coconut. Coconut milk is more like a tea. It starts with the flesh of mature coconuts that's grated, mixed with water and simmered until a desired consistency, then strained to remove any solids that remain.
There are two types of coconut milk and a difference in nutrients.
The nutritional profile of coconut water is far different and healthier than coconut milk. Even within the category of coconut milk, there are two different types, canned or carton, one which is healthier than the other. Carton coconut milk is lower in calories, like its counterpart coconut water. Canned coconut milk can have as many as 552 calories for a cup, while carton milk can be as low as 40 and coconut water, 46 calories. Fat is the prominent ingredient in coconut milk in cans, while coconut water is carbs and water. Both of those provide a wealth of nutrients and contain few additives.
Carton coconut milk sold as an alternative to dairy is quite different.
I am always amazed at how manufacturers find ways to comply with the demand of the public, but don't always give them what they want. The ingredient list for one type of carton coconut milk includes added sugar and salt. Here's the list for the dairy alternative unsweetened type. Coconut milk (Filtered Water, Coconut Cream), Vitamin and Mineral Blend (Calcium Carbonate, Vitamin E Acetate, Vitamin A Palmitate, Vitamin D2, Vitamin B12), Dipotassium Phosphate, Sea Salt, Sunflower Lecithin, Locust Bean Gum, Gellan Gum, Ascorbic Acid (to protect freshness), Natural Flavor. That's a lot of added ingredients. Rule of thumb, the more additives, the less healthy it is.
It's simple to make your own coconut milk
If you like the flavor of coconut milk and want it to be pure as possible, start with the meat of one coconut and a cup of filtered water. Chop the meat and blend it with the water. Pour into cheesecloth, add a half cup of water to the blender to mix with what's left over and add to the cheesecloth, then strain out the milk, squeezing it to get the last drop.
One cup of canned coconut milk has 5.5 grams of protein, compared to 2 grams in coconut milk. Carton coconut milk contains no protein. Coconut water and canned coconut milk magnesium, potassium, manganese and sodium. Carton coconut milk contains calcium and iron.
Since there are additives in carton coconut milk, it contains vitamin D, vitamin A, E and B12, while canned coconut milk and water contain none, but does contain vitamin C and folate.
Some types of carton coconut milk contain carrageenan. It helps prevent the milk from separating and is used as a stabilizer. Anyone that has an inflammatory condition, like IBS, should avoid it.
Ironically, true coconut milk without additives may actually reduce inflammation. If you can't drink dairy, coconut milk is a good alternative, but for the biggest health benefits, make it yourself.
For more information, contact us today at Habitat Health & Fitness