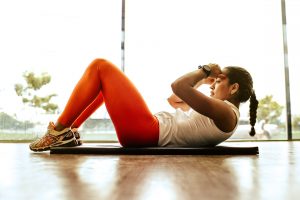 I appreciate our faithful clients to come to Habitat Health and Fitness and put the design of their workout in our hands, going through each guide workout with intensity and passion. However, even the most committed client has occasions when they can't make it to the gym and need no equipment workouts to fill in the gaps until they can. Here's a few workouts that you can do in a hotel room or your living room, virtually anywhere you have privacy and time.
Try a quick workout using calisthenics and body weight exercises.
People have been exercising for centuries without equipment. The exercises done in military boot camps start with those types of workouts using calisthenics and bodyweight exercises. If you want a total body workout, start with reverse lunges that work the thighs and hips. Do six reps on each side and move on to lateral split squats, also doing 6 reps on each side. Ten pushups are next followed by 10 hip bridges and 30 seconds of mountain climbers.
Dr Zach Bush created a four minute workout you can do three times a day.
This four minute workout is also called a nitric oxide dump. Nitric oxide opens up the blood vessels by relaxing the inner muscles of the vessels and allows increased circulation and more nutrients and oxygen throughout the system. This workout also works 16 different muscle groups. It starts with five to fifteen squats, jumping jack arm motions for the same number of reps, outstretched arm circles and finally overhead presses. Do four sets of this combination three times throughout the day. If you're fit, do the highest number of repetitions and those less fit start with the lower amount.
Get back to the basics.
There's nothing better than good old push-ups or lunges. If you want to maximize your workout time, get a combo of four bodyweight exercises you can do in a circuit training style. Repeat the combination for five to ten sets. One sample is 10-push-ups, 20 crunches, 10 Supermans and 10 body weight squats. If you're in good shape and these don't provide the challenge you hoped for, ask your trainer for some variations to make them more difficult.
Turn a simple walk to a HIIT workout. HIIT—high intensity interval training—can get you into shape faster than other styles of working out. By varying the speed and intensity, you can even make walking more challenging.
You don't have to have official equipment to get a workout. If you have plastic detergent bottles or gallon milk jugs, you have a replacement for kettlebells or weights when they're filled with sand or water.
Planks and other yoga poses also provide great workouts when you don't have access to the gym. Learning a few of these can add variety to your workout program and provide exercises when you're miles away from the gym.
At Habitat for Health and Fitness, our personal trainers are ready to help you with a program that travels with you, no matter where you go. Come in and our three free fat-burning workouts for a sampling of the benefits we offer.