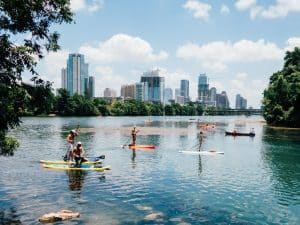 You'll get huge benefits from outdoor exercise in the heat. It can boost your metabolism and improve exercise efficiency. You need to acclimate your body to the heat to let your body make adaptations. People in Lakeland, FL can do that by taking their workout outdoors a few days a week all year. As the weather slowly gets hotter, you'll adjust as the temperature rises. Exercising outside in the heat has its drawbacks. It can be dangerous if you're not in peak shape. People with health conditions, are older, or taking medications, should check with their healthcare professional first. Exercise smarter in the heat.
Ride a bike and feel the wind in your face.
Experience one of the many Lakeland bike paths in parks or the Lake-to-Lake bikeway system. You'll get exercise and a gorgeous view of the outdoors. Riding a bike or exercising outdoors has its benefits. It can help reduce chronic inflammation that can negatively affect all parts of your body. It also lowers your stress level and reduces cortisol which contributes to belly fat. The combination of sun, fresh air, and exercise can lift your spirits, too.
Walk, run or hike in a wooded area.
Just being around greenery improves your spirit. Take a walk in Hollis Garden and enjoy the greenery. Turn the walk into a HIIT—high intensity interval training—workout by modifying your pace. Walk or run at peak intensity for a minute or two, then reduce it to recovery for the same time or longer. Repeat throughout the walk. Take a hike in one of the many parks for a more challenging session. Colt Creek, Loyce Harp Park, and Gator Creek Reserve Trail are a few ideal places to hike to enjoy the outdoors as you exercise.
Exercising in the heat just became cooler in the water.
You'll get many benefits from exercising in the water. Your body is buoyant, so it's easier on the joints. You'll also be pushing against the resistance of the water, so simple movements burn more calories. You can choose from one of the many swimming pools in the city to do pool exercises. If you want more adventure, go kayaking or paddleboarding at Lake Crago Outdoor Recreation Complex or go to Colt Creek for canoeing and kayaking.
If you're out of shape walking any distance can be dangerous outside. You can help Rover get exercise too. Take him to Lake Crago Dog Park for a walk.
Spending time being active has other benefits, like improved eyesight. A study of 2,000 schoolchildren showed that those who played outside improved their eyesight by 8% compared to those that didn't.
Reverse mental burnout by getting outside more often. Studies show that getting out in nature improves mental energy. The study found that just looking at pictures of natural settings helped.
Use your backyard as your gym but keep the workout short. You can jump rope or hula hoop and make it a time for family fun.
For more information, contact us today at Habitat Health & Fitness