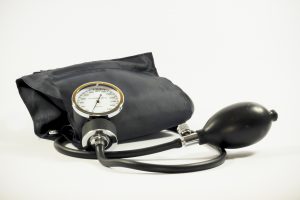 At Habitat Health and Fitness in Lakeland, FL, identifying the causes of preventable health issues and making lifestyle changes to avoid future damage, can boost health and vigor. One common problem faced by many people is consistent high blood pressure—hypertension. About 45% of all people have or will develop it. It's a silent killer, because left unaddressed, it can lead to stroke, kidney damage, hardening of the arteries, dementia and early cognitive decline. In the early stages, most people don't realize they have a problem because there often aren't any symptoms.
High blood pressure means your heart has to beat harder.
Your blood pressure is a measure of the force your blood exerts against the blood vessel and artery walls. The top number is the systolic blood pressure, which is the force that occurs in the arteries as your heart beats. The second number is the force that's in the arteries between beats. The higher the number, the harder your heart is working. That can make the heart work less efficiently. The tissue inside your artery walls is delicate and subject to damage over time. It can cause tiny tears, which bad—LDL—cholesterol creates plaque that sticks to those damaged walls and builds up to narrow the arteries even further.
Changing your diet can help.
Not only does processed food contain few nutrients and minimal fiber, it contains salt, sugar and additives that can affect your blood pressure. The sodium in salt has a direct impact on your blood pressure. It pulls in fluid to your vessels from surrounding tissues and increases your volume of blood. More blood equals more volume and higher pressure. Salt is a common ingredient in processed and restaurant food. A bad diet can also cause weight gain and the more you weigh, the more blood the heart has to pump, increasing blood pressure.
Lack of exercise can affect your blood pressure negatively in a few different ways.
Not only will sitting too much, not getting adequate exercise, cause weight gain and less muscle tissue, it can affect your blood pressure. First, the less you exercise and the less muscle tissue you have, the more prone you'll be to weight gain. The heavier you are, the higher your blood pressure will go. Blood pressure is affected by a sedentary lifestyle another way. When you have adequate aerobic activity, it helps keep your blood vessels more flexible and makes them less sensitive to changes in hormones. Exercise helps slow arterial hardening that makes both your blood vessels and heart work harder.
Elevated blood pressure starts when the systolic number—the top number—is over 120. Stage one hypertension starts at 130/80. Stage two begins at 140/90. A hypertensive crisis occurs of you systolic number is higher than 180 or the diastolic number is higher than 120.
Bad habits can cause high blood pressure. Too much alcohol or a tobacco habit can increase your blood pressure. Binge drinking can cause build up of arterial plaque, while the nicotine in cigarettes can increase blood pressure and heart rate.
Stress can cause blood pressure to rise. Exercise is one way to relieve stress, but so are meditation and breathing exercises. Getting together with friends and socializing can also help lower blood pressure.
Some people are genetically prone to high blood pressure, but still can help delay the onset of it. Making lifestyle changes can help prevent early onset high blood pressure and reduce the damage it causes.
For more information, contact us today at Habitat Health and Fitness